Applications are usually due two months before the respective conference.
Download ApplicationStudents are encouraged to apply for a ONE TIME travel award from the Neutron Scattering Society of America. This award is to assist in student travel, lodging and/or registration to a North American conference where the student is presenting a poster or an oral presentation of scientific work that primarily involves Neutron Scattering. As this award is to encourage the development and networking of students with the neutron scattering community, these awards are meant for only neutron-scattering specific meetings (e.g.: not the ACS, APS, MRS, ACA, etc).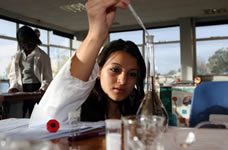 These travel assistance awards are meant to further the NSSA roles to stimulate, promote, and broaden the use of neutron scattering in science and technology and to carry out educational activities that support the Society's goals.
Requirements
Applicants must submit an application form and must meet the following criteria:
Students must be enrolled as full-time students at a US institution
Awards will only be granted once to an individual.
An abstract for the conference must be submitted, and accepted in order to receive funding.
Awards will be up to but not exceeding $500/student. Limited funds are
available.
Reimbursement will require submission of all original receipts for conference related expenses (e.g. lodging, transportation, meals, or registration).
Travel awards will NOT be applied to the ACNS meeting.
Applicants must be NSSA members.
How to Apply
The completed application form must be e-mailed as an attachment to the NSSA Membership Secretary, grants@neutronscattering.org.
Please Include "NSSA Student Travel Award Application" in the subject line.
If you would like to donate to this fund, please contact the NSSA treasurer.