The Neutron Scattering Society of America (NSSA) was formed in 1992 and is an organization of persons who have an interest in neutron scattering research in a wide spectrum of disciplines.
This web site is intended to provide information about the NSSA, to highlight upcoming meetings and other activities of the Society, and to list links to neutron laboratories and resource information.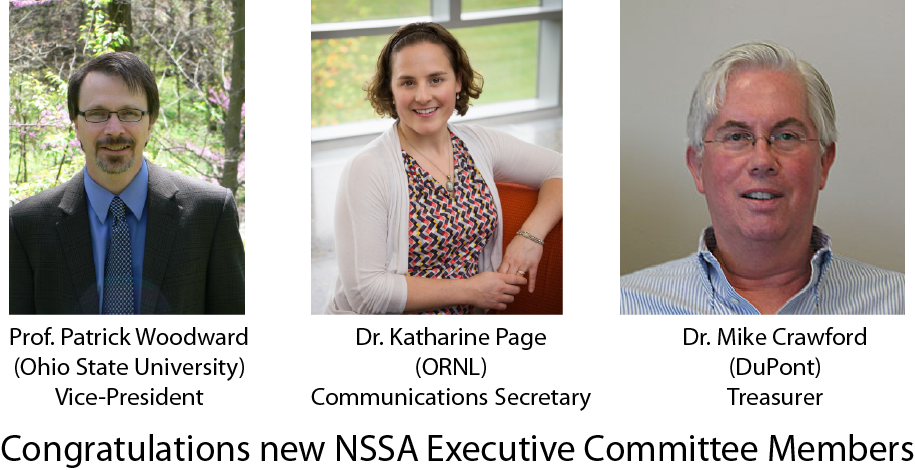 Become a Member
There is no cost to be a member
Membership in the society is open to individuals in academia, industry, and government.
Graduate students and recent Ph.D.s are especially encouraged to join.
Presently the NSSA has more than 1000 members from 26 countries.
What's New
Post Date: February 17th, 2015
It is our pleasure to announce the results of our recent election, in which three NSSA Executive Committee positions came to term. Congratulations and welcome to our new NSSA executive members:
Prof. Patrick Woodward (Ohio State) – Vice-President (4 year term)
Dr. Katharine Page (ORNL) – Secretary (4 year term)
Dr. Mike Crawford (DuPont) – Treasurer (2 year term)
We would like to thank our members who put themselves forward for election. Standing for election can be a somewhat thankless task, but the well-being of our society depends critically on our leading members of doing so. We greatly appreciate the efforts and service which these members have offered our society.
We thank our outgoing executive members, Julie Borchers (Vice-President) and Chris Leighton (Secretary) for all their efforts, hard work, and contributions on our behalf.
Post Date: September 17th, 2014
The 7th American Conference on Neutron Scattering (ACNS) was held in Knoxville, Tennessee, June 1–5, 2014 and drew 440 attendees. A Neutron News article has been published summarizing the meeting. A collection of photos from the conference can be found at the ORNL Neutron Sciences flickr site.